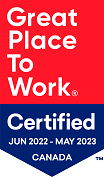 Toronto, ON (July 4, 2022) —ExperiencePoint is proud to announce that we have been certified as a Great Place to Work® after a thorough and independent analysis conducted by Great Place to Work® Institute Canada. This certification is based on direct feedback from employees, provided as part of an extensive and anonymous survey about the workplace experience.
"ExperiencePoint is committed to nurturing a challenging, meaningful and rewarding workplace," said James Chisholm and Greg Warman, co-founders of ExperiencePoint. "Our talented team and unique culture — focused on fun, balance and learning — have been key to our company's success for the past 26 years."​
ExperiencePoint is a place where creative, smart, lifelong learners thrive. The company believes in fostering a collaborative environment where smart and down-to-earth colleagues inspire each other every day. ExperiencePoint uses three criteria for recruiting — hungry, humble and smart — and those are qualities you can find in every team member.​
You can learn more about ExperiencePoint's Great Place to Work® certification​ here.
About Great Place to Work®
Great Place to Work® (www.greatplacetowork.ca) is the global authority on high-trust, high-performance workplace cultures. Through proprietary assessment tools, advisory services, and certification programs, Great Place to Work® recognizes the Best Workplaces™ across the world in a series of national lists including those published by Fortune magazine (USA) and The Globe & Mail (Canada). Great Place to Work® provides the benchmarks, framework, and expertise needed to create, sustain, and recognize outstanding workplace cultures.
Follow Great Place to Work® at www.greatplacetowork.ca and on Twitter at @GPTW_Canada
About ExperiencePoint
ExperiencePoint is the innovation training partner you need to help you establish and sustain true workforce-led transformation. Equipped with the foundation of tools, methods, and support that's right for your unique culture, your people can apply design thinking to their daily work and drive the outcomes essential to your success. Learn more at www.experiencepoint.com.