Creativity is a powerful and often underused force that can help solve problems, improve products, and adapt business models in an ever-changing world. The good news is that anyone can learn to tap into their creativity and every company can harness it across the organization.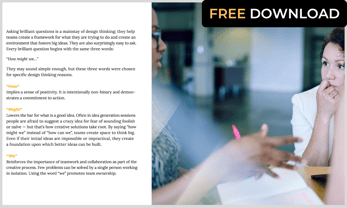 Download this free ebook to learn:


The right questions to ask at the outset of a project

How to adopt a more customer-centric approach to design and build with your end-user in mind

Harness cross-functional team collaboration as a means to drive new and innovative ideas forward

How to rapidly advance the understanding of an idea or solution through testing and iteration

A proven framework to apply creativity to solve complex challenges in new and innovative ways
Ready to build and flex your creativity? Download our ebook and get started!