It goes without saying that business growth, sustainability and success are linked to a company's culture. That statement has never been truer — or trickier to accomplish — than it is today. As a younger generation takes the reins of business leadership, can design thinking help ease the growing pains?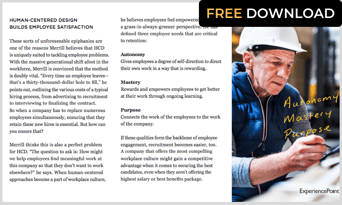 Download this free eBook to learn:
Why human-centered design improves employee satisfaction
The three employee needs that are critical to retention
Why a compelling company culture is a competitive advantage when it comes to securing top candidates
Can human-centered design help build your employee satisfaction? Download our eBook to find out!