Coming up with an idea is easy. Coming up with the right one takes some effort. With design thinking, throwing out what you think you know and starting from scratch opens up seemingly endless possibilities.
In ExperiencePoint's eBook, Design Thinking 101, learn the fundamentals of this human-centered framework and immediately put them into practice to uncover powerful insights and solve your most complex business problems.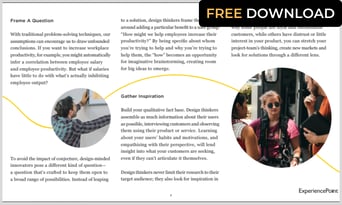 Download this free eBook to learn:


The fundamentals of design thinking – a human-centered approach to innovation

How design thinking works, who it's for and a 6-step framework to innovation
How some of the world's most innovative companies such as Netflix, PepsiCo and Airbnb have successfully used design thinking to push boundaries and disrupt their industries

How can design thinking help build a culture of innovation in your organization? Download our eBook to find out!