Coming up with any old idea is easy — but coming up with the right idea takes effort. Human centered design uses design thinking frameworks to open up endless possibilities and improve problem solving.
Learn about the fundamental principles taught in our workshops through our eBook, Design Thinking 101. Get started with design thinking and uncover powerful insights to solve your most complex business problems.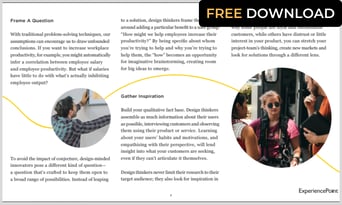 Download this free eBook to learn:


How design thinking frameworks inform innovation core value

How design thinking works and who it's for

How prototyping helps and get guidance for using "how might we" statements

Design thinking tools and the 6-step framework for innovation
Learn how some of the world's most innovative companies, including Netflix, PepsiCo and Airbnb, have successfully used design thinking to push boundaries and disrupt entire industries.

Want to know how design thinking helps build innovation core values? Get your copy of the eBook to find out today!