Welcome to an era of always-on change and transformation across the world and every industry. Traditional approaches to strategy and problem solving alone can't deliver what customers want and need. To be customer-centric, innovative, future-ready and to succeed, organizations need a new capability and toolkit to transform the way they tackle their most important and complex problems: design thinking.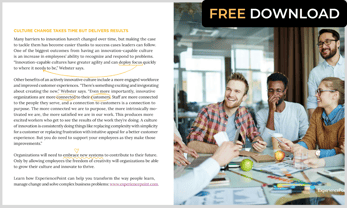 Download this free eBook to learn:


Why you should be realigning your work culture to be more receptive to innovation


How to recognize and address barriers to change


Addressing behavioral change as a means to kickstarting innovation


How embracing culture change drives measurable results


How can you know for sure if your culture is innovation capable?
Download our eBook to find out!